CellCamper® - QUALITY FOR CELL CULTURE
The focus of the brand CellCamper® lies on the safe transport as well as storage of frozen samples. The product spectrum ranges from freezing boxes for -80ºC to transport containers, which maintain a constant low temperature for the duration of the cell transport. To guarantee even distribution of temperature and insulation the CellCamper products are made from high tech plastics and materials.
Newest high tech plastics and materials guarantee high reliability and a long product lifetime, which is additionally environmentally friendly.
A strict and efficient value chain ensures resource-friendly and sustainable application of raw materials and energy.
Only constant advancements can create innovation and yield new technologies. We ensure this process along the entire value chain.
The CellCamper® Mini is a freezing box with allows a number of cell types (such as primary cells, yeasts, bacteria etc.) to be frozen without the use of alcohols. The freezing rate in these new freezing boxes in -1ºC per minute in a -80ºC freezer and is reproducible. The advantage of the CellCamper® compared to common freezing boxes in that no alcohols such as isopropanol or other substances, which are expensive to dispose, are used. With this technology a thermally conductive alloy and highly insulating outer materials are used. Thereby an even heat dissipation from each individual sample is guaranteed.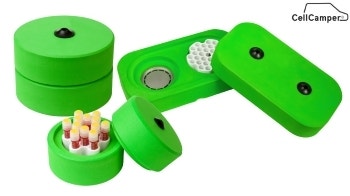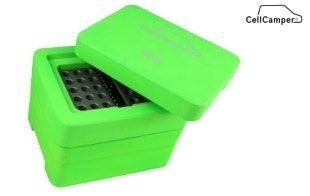 With the CellCamper® Maxi cooling transport box you can transport and cool your samples safely without the usage of ice or other energy sources. Three temperature ranges are available to you with the help of different cooling units: cool (+0 to +4ºC/ up to 12 hours), frozen (-20 to +0ºC/ up to 12 hours) or ultafrozen (-22 to -18ºC/ up to 5 hours). As an alternative to the cooling units you can also use dry ice. Thereby you can store samples at the desired temperature for long periods of time. The CellCamper® Midi is the smaller version of the CellCamper® Maxi.
All components of the CellCamper® Midi or CellCamper® Maxi cooling transport box are very robust and can be cleaned easily with alcohol. The carrying belt facilitates transport of the samples directly at the workplace, under the safety bench or also on an airplane.
Ideally suited for PCR tubes, 1.5 - 2.0 ml reaction vessels and cryovials through the different applicable aluminum blocks.